Q: A friend of mine insists that she was born a Christian...
is that true ?
Thursday, August 13th, 2009 at 10:32 PM by Ruth Tynes / Online Editor / InTheTimes.com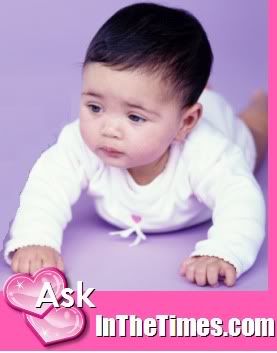 Ruth: Many people are blessed to be born into a family with great Christian role models--it may be a parent or grandparent. There is nothing wrong with honoring your relatives for their great faith in God; however Jesus says in John 3:3, "I tell you the truth, no one can see the kingdom of God unless he is born again." (NIV)


Romans 3:23 warns us that "all have sinned and fall short of the glory of God " (NIV)
--so no one is born saved / a Christian, hence the concept of being "born again".

Many people during the time of the Bible made the same mistake...some thought that because in their family line were great men of faith such as Abraham and King David, that they were automatically saved.

"John said to the crowds coming out to be baptized by him, "You brood of vipers! Who warned you to flee the coming wrath? Produce fruit in keeping with repentance. And do not begin to say to yourselves, 'We have Abraham as our father.' For I tell you that out of these stones God can raise up children for Abraham. The axe is already at the root of the trees, and every tree that does not produce good fruit will be cut down and thrown into the fire." " (Luke 3:7-9, NIV
)

#1 - Don't argue with your friend over the topic. The fact that she insists upon this school of thought, shows that she doesn't really understand what being a Christian is all about.

"If it is possible, as far as it depends on you, live at peace with everyone." (Romans 12:18, NIV
)

#2 - Pray for her and continue to be a friend. "Dear friends, let us love one another, for love comes from God. Everyone who loves has been born of God and knows God. Whoever does not love does not know God, because God is love. This is how God showed His love among us: He sent His one and only Son into the world that we might live through Him. This is love: not that we loved God, but that He loved us and sent His Son as an atoning sacrifice for our sins. Dear friends, since God so loved us, we also ought to love one another. No one has seen God; but if we love one another, God lives in us and His love is made complete in us." (1 John 4:7-12, NIV
)

#3 - If the subject comes up again, point out to her the Bible verses above and then leave it at that. She has to make the decision to make her faith in God her own and stop trying to earn 'brownie points' because of her Christian family members.



>>> Like Ruth's headband ??? Get yours exclusively at ITT girl couture !!!

Originally published in the June 6, 2008 issue of In the Times magazine. Copyright 2008. All rights reserved. This article may not be reprinted or posted without written permission from the author. Please contact for reprint permission.
tags: are some people born saved a Christian, salvation saved sins forgiven forgiveness by God Jesus Christ repent repentance eternal life going to heaven when die born again, good works deeds family heritage lineage ancestors genes, q&a question and answer faq faqs faq's, tween pre-teen pre teen teenage teenager young adult girl girls women woman female lady ladies, inthetimes.com inthetimes in the times magazine, magazine web site website blog e-zine ezine article book ministry, christian church doctrine theology beliefs faith based faith-based bible biblically biblically-based worldview world view teach teaching teacher preach preacher speaker sermon message lesson illustration series study devotional devo
Want more Fashion + Entertainment + Faith + Fun ???
Check out In the Times magazine !!!