I Always Fall Asleep When I Read the Bible !!!
Friday, February 19th, 2010 at 12:00 AM by Ruth Tynes / Online Editor / InTheTimes.com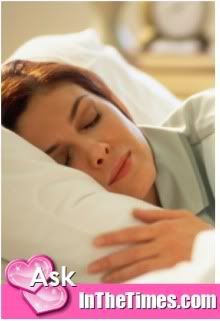 Q: Every time I lie down to pray or read the Bible, I end up falling asleep! I feel horrible when I wake up and realize what I've done... Any advice?
Ruth: First off, the fact that you are taking time out to pray and read the Bible is great! Too often we use the Bible as something to simply decorate the living room coffee table with, or we treat it as yet another book that occupies a space on our family bookshelf. Take cues from Abraham in the Bible, who God called His friend! (see James 2:23)

Don't look at Bible Study time as yet another thing to do and check off of your daily 'to do list'. Instead, approach Bible Study time as you would fellowship with any of your family and friends.

#1 – Evaluate your Bible Study habits.
#2 – Isolate your setbacks.
#3 – Create a new plan of action.

Have your Bible Study time when you are wide awake! This probably cancels out first thing in the morning or right before you go to bed at night. To ensure that you are alert, you might have to choose to record your favorite TV show and watch it later, and spend that time doing your Bible Study.

Be aware of other distractions such as, hunger, a noisy environment, phone calls, etc. and make the proper preparations. Let your family and friends know the times that you will be doing Bible Study. Let them know that you'll check in after you've spent your quiet time with God.

Get down to business first: Read the Bible, then journal / chat with the LORD. That way, if you do drift off or get interrupted, you have done the most important part of quiet time, which is actually reading the Biblical text!

"My people are destroyed from lack of knowledge." (Hosea 4:6, NIV
)

"Seek the LORD while He may be found; call on Him while He is near." (Isaiah 55:6, NIV
)

A big thing to remember is that God is not mad at you !

" "Then you will call upon Me and come and pray to Me, and I will listen to you. You will seek Me and find Me when you seek Me with all your heart. I will be found by you," declares the LORD" (Jeremiah 29:12-14, NIV
)

As with anything, you just need to decide that Bible Study time with God is very important to you, and that you will choose to have discipline around accomplishing it!

No matter how many times you mess up, keep trying! "for though a righteous man falls seven times, he rises again," (Proverbs 24:16, NIV
)



>>> Like Ruth's headband ??? Get yours exclusively at ITT girl couture !!!

* This article was originally published in the June 3, 2005 issue of In the Times magazine. Copyright 2005. All rights reserved. This article may not be reprinted or posted without written permission from the author. Please contact for reprint permission.
tags: bible study reading quiet time prayer journalling diary schedule regimen time, tween pre-teen pre teen teenage teenager young adult girl girls women woman female lady ladies, inthetimes.com inthetimes in the times magazine, magazine web site website blog e-zine ezine article book ministry, q&a question and answer faq faqs faq's, advice tips ideas, christian church doctrine theology beliefs faith based faith-based bible biblically biblically-based worldview world view teach teaching teacher preach preacher speaker sermon message lesson illustration series study devotional devo
Want more Fashion + Entertainment + Faith + Fun ???
Check out In the Times magazine !!!