Q: Is there a certain amount of time that I should read the Bible everyday ?
Monday, November 17th, 2008 at 10:49 AM by Ruth Tynes / Online Editor / InTheTimes.com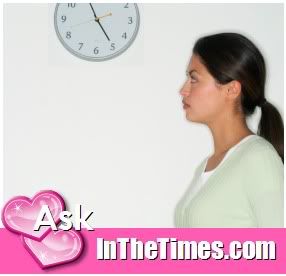 Ruth: The Bible is a very important book, it is our instruction manual for life from God, so spending time reading it is very important.

Please note that there is a big difference between reading the Bible and learning from the Bible...we want to learn from the Bible.

Some ways to do this are:

Get on a regular Bible reading schedule: Decide what times you are going to do your Bible study.

Ideas include:
- When you first wake up, before you get dressed, eat, etc.
- On the ride to school, home from school, etc.
- During a study hall period, break time, etc. at school
- Right after you come home from school, etc.


(click the Photos above to get a closer look)



Utilize a "Read through the Bible in one year" Schedule: These are great to help guide our daily Bible reading times. Most Bibles have these schedules in the back or front section. It doesn't matter if we actually read through the entire Bible in one year (remember we want to learn, not speed read through) so simply use the schedule as a motivating tool.

Utilize a Bible study book: These types of books help us learn specific truths from the Word of God in a timely fashion. InTheTimes.com has designed a line of "Devotional Diaries" to aid you in your Bible Study times. Check them out here!

Living

the Christian life

is something that we work on day by day, so we will never stop learning from reading the Word of God, no matter how young or old we are. We learn something new, exciting, and helpful every time we pick the Bible up and study it !

As a Christian, we should seek to show progress in our study of God's Word, so keep at it !

There is no set time that we should read the Bible everyday. However, think of it like anything else important that we have to study for...equations for the math test, your lines for the school musical, historical facts for the history test, lyrics for your solo, vocabulary for the foreign language test, the dance steps for your routine, etc. So we want to spend an appropriate amount of time studying the Bible as well !

The Bible is the playbook for our daily life ! "Those who get wisdom do themselves a favor, and those who love learning will succeed." (Proverbs 19:8,

NCV
)



>>> Like Ruth's headband ??? Get yours exclusively at

ITT girl couture

!!!

* Originally published in the March 28, 2008 issue of In the Times magazine. Copyright 2008. All rights reserved. This article may not be reprinted or posted without written permission from the author. Please contact for reprint permission.

I Always Fall Asleep When I Read the Bible !
Q: I've been a Christian for a long time, should I have already read the entire Bible ?
Want more Fashion + Entertainment + Faith + Fun ???
Check out In the Times magazine !!!