Pretty Prom Curls
Thursday, April 15th, 2010 at 2:02 PM by Ruth Tynes / Online Editor / InTheTimes.com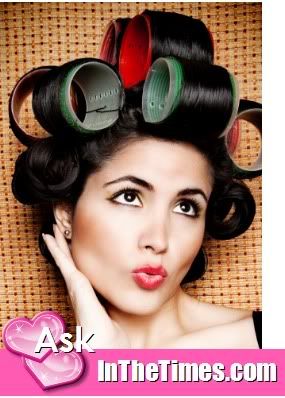 Q: How do I get pretty prom curls without being stereotypical--tacky and overdone...
Ruth: First, decide what type of curls you want. Check out the style ideas below.

Then, think about your unique hair texture (ex.- oily, dry, curly, wavy, thick, thin, etc.). This will help when you're reading the how-to tips below and formulating your unique pretty Prom curls game plan.

Everyone's hair texture is unique (based on the combination of your individual DNA), and the #1 Tip for having 'a good hair day' everyday, is to know your own hair--what works and what doesn't.

Which leads into our next tip, allow yourself time, time, and more time, to get to know your hair. Sure, it's easy to 'throw our hair up in a ponytail' everyday or chop it all off 'so we don't have to deal with it', but naturally beautiful hair, no matter the texture, comes with trial and error.

So, if you aren't sure if you know your hair or not, start 'playing with it' now. As for achieving pretty Prom curls, after you decide what type of curls you want, start practicing the style now. Don't wait until Prom night, it's a disaster waiting to happen... (lol)

Next, enlist help if possible. Select someone who will be patient, loving, and treat your hair with the utmost care and respect. Ideas include your mom, step-mom, sister, grandmother, cousin, and yes, don't leave out dear 'ole dad, some dads can be a great help (especially when it comes to helping their little girl be the best she can be, smile). Of course, you can also visit your local salon for help.

When enlisting the help of friends (or any of the above), be careful. Yes, we love our friends, but you need to make sure that first off, your friend likes doing this sort of thing. You also need to be 99% sure that this person is truly a friend. If you have any thought that jealousy might be present, forget it!

Don't 'just pull anybody off of the street' and expect them to do your hair justice. Like I said, this is a huge time / effort commitment, and you don't want to enlist the wrong person, who isn't willing to see the job through to the end with excellence. So enlist with care.

Last step before getting started = make sure that you have the right tools. Click the photos below to browse suggested products: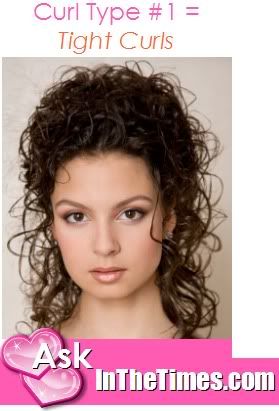 4 THINGS TO KNOW about wearing Tight Curls...

1) Depending on the texture of your hair, you may want to straighten your hair first (with a flat iron or whatever your best straightening method is) to ensure smooth looking curls.

2) Separate / section your hair (with a claw, see below) and start curling the hair from the back of your neck up. This helps keep your curls organized.



3) A "spiral curling iron" (seen in the first set of product suggestions above) gets the best results. Remember to coat your hair by using a "heat protecting" styling product, based on your hair type. Too much heat can really do damage to your hair follicles.

4) To achieve a "tight curl", remember to curl a small amount of hair, as opposed to a large amount.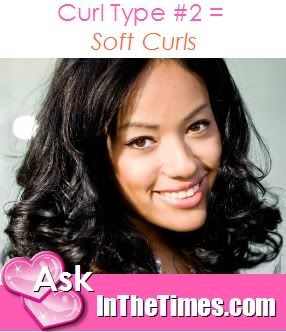 3 THINGS TO KNOW about wearing Soft Curls...

1) Repeat steps #1 and #2 from the "tight curls" style tips above.

2) For "soft curls" you want to focus on the ends of your hair, as opposed to the entire strand (see the photo to the right for an example). Use a larger curling iron and curl a larger amount of hair, as opposed to a small amount.

3) Same info from step #3 (above) applies, in terms of coating your hair from extreme heat.






2 THINGS TO KNOW about wearing Naturally Curly...

1) If your hair is truly naturally curly, embrace it! Use a styling product (like seen in the first set of product suggestions above) formulated to diffuse naturally curly hair and add shine. You've got it easy girl, so go rock your ultra fab Prom gown! (smile)

2) If you don't have naturally curly hair, but still want to rock this look, simply follow the steps from the "tight curls" tips. Except, instead of using a spiral curling iron, use a larger curling iron and curl a medium sized amount of hair.

Copyright 2010. All rights reserved. This article may not be reprinted or posted without written permission from the author. Please contact for reprint permission.


tags: prom hair style styles curls curly hair at home at-home, tips how tos how-tos advice instructions, do's don'ts dos donts, tween pre-teen pre teen teenage teenager young adult girl girls women woman female lady ladies, q&a question and answer faq faqs faq's advice tips ideas, inthetimes.com inthetimes in the times magazine, magazine web site website blog e-zine ezine article book ministry, christian church doctrine theology beliefs faith based faith-based bible biblically biblically-based worldview world view teach teaching teacher preach preacher speaker sermon message lesson illustration series study devotional devo




Want more Fashion + Entertainment + Faith + Fun ???
Check out In the Times magazine !!!