Beyond Basic Tees / Back to School Fashion series
Friday, September 17th, 2010 at 12:09 PM by Ruth Tynes / Online Editor / InTheTimes.com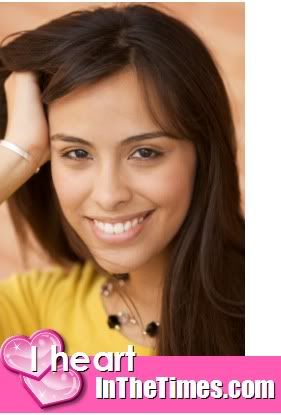 Q: For school, I'm more of a jeans and t-shirt girl... But everyone wears that ! Any advice?

Ruth: The In the Times magazine article "Create Your Own Style" has super helpful advice on how to pinpoint your own unique style, especially when wardrobe / shopping selections seem slim.

If you've heard it once, you've heard it a bajillion times at ITT, and we're going to say it again... (smile) Wear what makes you feel comfortable!

So if jeans and tees are your thing, then be comfortable wearing them regardless of what "everybody else" is wearing. (sounds like they think they're pretty comfy too, smile)


3 THINGS TO KNOW about wearing Tees...

+ Shape vs. Boxy: Select tees (notice I said "tees" not "t-shirts", there is a difference) that have a "shape" and "structure".

Steer clear of "boxy" t-shirts (those are the ones that usually come in unisex sizes, think about it, no matter what your body shape, they do make you look like an actual "box")

Now, if you have any of those (I do, from Student Government, Drama, Church, etc.) either keep / store them as mementos (that's what I do, smile, fun times to remember & cherish for surely) OR wear them as veg out clothes, to do chores in, yardwork, workout, etc.

+ Wear "Fashion Tees": Try buying comfy, yet more stylish alternatives. Instead of plain 'ole t-shirts, think "fashion tees". Fashion Tees have detailing, embellishments, different types of sleeves, they come in a variety of pretty colors, prints, and patterns. Fashion Tees are available in an assortment of different "fits" and "cuts", so experiment and find what style(s) flatter your unique body shape. Check out the style ideas below:





(click the photos above to browse style / color selections)





+

No more Plain Jane: Take your plain jane tees and transform them into more fashionista-worthy options by: adding your own embellishments (see the InTheTimes.com article "DIY Fashion - Iron On Appliques" for more info), switch up your bottoms (don't just wear the same 'ole jeans or shorts), and dress up with accessories (statement necklaces, scarves, your hair style, etc.)

Happy Styling !


Copyright 2010. All rights reserved. This article may not be reprinted or posted without written permission from the author. Please contact for reprint permission.


tags: always mostly wear wearing only basic simple regular boxy unisex uni sex sizes shapeless boring bland plain tees t-shirts t shirts tee shirts jeans, fashion fashionista tees with shape structure detailing embellishments sleeves colors prints patterns designs fits cuts, back to 2 school fashion series, q&a question and answer faq faqs faq's, do's don'ts dos donts what how to not wear, inthetimes.com inthetimes in the times magazine, middle school junior high jr high high school college university career age career-age, tween pre-teen pre teen teenage teenager young adult girl girls women woman female lady ladies, christian church doctrine theology beliefs faith based faith-based bible biblically biblically-based worldview world view teach teaching teacher preach preacher speaker sermon message lesson illustration series study devotional devo, modest modesty, fashion shopping style wardrobe




Want more Fashion + Entertainment + Faith + Fun ???
Check out In the Times magazine !!!