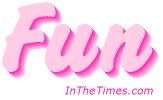 Do we spend too much time together...
Friday, October 16th, 2009 at 10:33 PM by Ruth Tynes / Online Editor / InTheTimes.com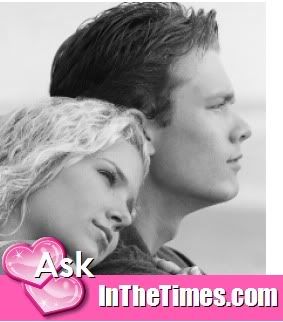 Q: My parents said that I spend too much time with my boyfriend. They said that they understand that we like each other and are getting to know each other better, but that they are concerned that I am not spending time doing other things that I like and hanging out with my other friends. They said they are afraid that I am "loosing my sense of self "... Any advice?
A: You are very blessed to have parents that care about you forming your own identity as a young woman! Ephesians 6:1-3 reminds us, "Children, obey your parents in the Lord, for this is right." "Honor your father and mother"--which is the first commandment with a promise--"that it may go well with you and that you may enjoy long life on the earth." " (NIV)


Yes, it is important for you and your boyfriend to spend time getting to know each other. However, you both should still be able to live your own individual lifestyles and pursue your own unique interests without the other one always having to be there.

Start including your family and other friends in your 'getting to know you activities'. You might want to have a BBQ one Saturday afternoon with both of your families and friends! Incorporate 'icebreakers' into the afternoon that will allow everyone to get to know each other better!

If your boyfriend is serious about building a loving relationship with you, he will be more than interested in getting to know the other people (family and friends) that are important in your life too. Yes, he will be nervous about meeting them (that's natural!) but his passion for learning to love them as you do will win out! Never settle for the excuse that he is 'too nervous' to meet your family and friends!

Including your family and friends will also add an extra level of accountability in your relationship—which is very important! After spending time with you and your boyfriend, if your family and friends approach you with concerns about your relationship, don't get upset, "Plans fail for lack of counsel, but with many advisers they
succeed " (Proverbs 15:22, NIV
)

Respect their love and concern for your wellbeing (and that of your boyfriend), talk to God about it, run their advice through His Word—the Bible, and if it lines up with God's best plan for your life, go from there! Be brave and always remember that you are very blessed to have a family that loves you (not everyone does)!

Great question!
RUTH


* This is an excerpt from the book InTheTimes.com Q&A by Ruth Tynes. Copyright 2008. It may not be reprinted or posted without written permission from the author. Please contact for reprint permission.
Too much PDA ???
Summer Love...
Long-distance Love...
tags: dating relationships time spent together parents family friends concerns, tween pre-teen teen teenage teenager young adult girl magazine web site blog e-zine christian faith-based biblically-based, q&a question and answer, advice tips ideas
>>> CLICK HERE TO READ MORE
InTheTimes.com Pop Radio / ITTpop Radio


Listen to
Christian-based
Pop Music
@

ITTpop Radio

!

* Watch some of our InTheTimes.com Interview Promo Videos !


Web Site Designed and Maintained by In the Times Public Relations / Copyright 2009 In the Times Public Relations. All rights reserved.