Not ready to Subscribe? Click HERE to receive our FREE newsletter !!!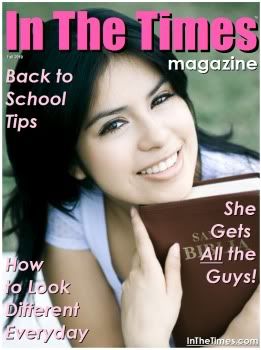 What are Tween / Pre-Teen, Teen, and Young Adult girls saying about In the Times magazine ?
"I like that I can re-read through all of the archives and catch up on anything that I have missed ! "

Hannah S. / Arkansas, USA
"I found out about InTheTimes.com from my sister and it is a really fun web site and magazine. I love that it is really simple to register for too ! "

Emma S. / Arkansas, USA
"InTheTimes.com is AWESOME ! I like ITT because it focuses on things that we girls like to know about and it gives us God's point of view on these things ! ITT really shows how we can have fun but still live a life focused on Christ !! "

Anne Marie H. / Florida, USA
"I like InTheTimes.com articles because they are short, simple, and to the point, but include empowering and inspirational messages ! Plus...ITT features cute and trendy fashions! "

Alyson B. / Tennessee, USA
"I like In the Times because you talk about having faith in God and trusting Him...you can't find many magazines like that these days. "

Naomi S. / Alaska, USA
"I love reading InTheTimes.com because you have a lot of things that help me grow stronger in my faith!"

Emily P. / Connecticut, USA
What are Parents saying about In the Times magazine ?
"Our 10 year old daughter, has been LOVING In the Times! She has had so much fun since we discovered it. I'm having a hard time keeping her off my computer. (smile) Thank you and God bless the great work you are doing! "

Ginger M. / Kansas, USA
"In the Times is very refreshing! I print the issues out and give them to my younger daughter. I registered my older daughter separately, so she can get on by herself. Thanks for all you do on behalf of young women everywhere! It's very exciting to see how God is using ITT for His glory. Keep up the great work! "

Carrie M. / North Carolina, USA
"I like In the Times because it's consistently updated with something new! It's a much-needed resource for girls and their parents. There are lots of relevant Q&A's with Biblical evidence to support the advice given to girls. "

Peter W. / Texas, USA
"Ruth from In the Times is a gem! I just love it when people minister in their gifts with such passion! She has a heart of gold and a sincere desire to minister to tween, teen, and young adult girls through the In the Times web site and magazine! Girls need more role models like this! "

Kristina B. / Arizona, USA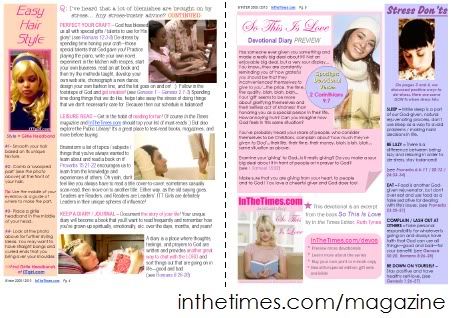 "Ruth, the more I get to know you, the more you impress me with your talent, professionalism, and LOVE for the Lord. I'm so proud of you! You take what the Lord has given you and you run the race (smile) I LOVE that!!!! It's one thing to talk it...but to do it...that's a new ballgame. God has gifted you with awesome talent with In the Times, thanks for all you do, we all appreciate it very much. Continue being a LIGHT of this world to girls who need to hear God's Word. "

Shannen F. / Georgia, USA
"You have a new fan. What you are doing for young girls with In the Times magazine is a wonderful thing! There is so much junk that is available in media form, that it is a real blessing to see ITT as an outlet of truth, with ideas of holiness and righteousness for young girls lives. We subscribed to the magazine and look forward as parents, to keeping up with it. We work with youth at our church and are going to introduce ITT to them. God bless! "

Roger & Sue D. / Minnesota, USA
"In the Times Editor, Ruth, is too cute! I love her personality and her enthusiasm for the Lord shines through in each article and is absolutely infectious! In the Times is a great read for girls (but also us parents)! "

Christina S. / Georgia, USA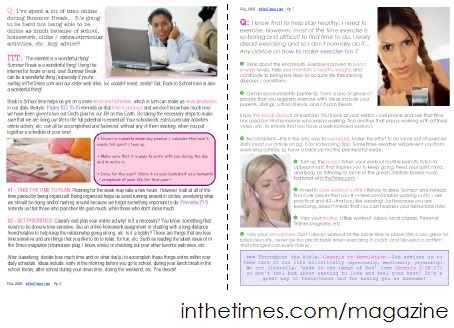 "We came across In the Times online and even as parents, enjoy reading your articles. Thank you for your ministry to young ladies. As parents of three daughters, it is with great effort that we try to protect and strengthen our children's Godly character. We now look to In the Times magazine to help us encourage them! Thanks again for your ministry! "

Andy & Denise D. / Virginia, USA
"In the Times is an incredible ministry! My wife, daughter, and I appreciate all of the great ways that ITT is inspiring young women! We all get encouraged and enjoy discussions about the articles we read. God's continued blessings and favor on all that ITT does! "

Eric N. / Tennessee, USA
Get your SUBSCRIPTION for only $5 a year
Not ready to Subscribe yet? Click HERE to receive our FREE newsletter !!!


Web Site Designed and Maintained by In the Times Public Relations / Copyright 2000-2015 In the Times Public Relations.
All rights reserved.